Pupapu Poapoa

Information
Series used in
LocoRoco

Track #
16 (LocoRoco)


28 (LocoRoco's Song)
29 (LocoRoco 2)
2 (Midnight Carnival)

Composer
Nobuyuki Shimizu
Length
2:27 (LocoRoco)


1:38 (LocoRoco's Song)
2:34 (LocoRoco 2 & Midnight Carnival)

Variants

Goodnight to Mojya version

Pekeroné and Tupley version

Midnight Carnival version

Track List
Pupapu Poapoa is a background music from the Chapo-Wahr stage on LocoRoco and LocoRoco 2. The song can be also heard in LocoRoco Cocoreccho! after Bonmucho falls asleep.
In LocoRoco 2, Tupley and Pekeroné provide the vocals. The MuiMui also provide the vocals in both versions. In Midnight Carnival, the BuiBui only provide the vocals.
Lyrics
Mon Mon Moro Moro Moja Moja MoiMoi
Mon Mon Moro Moro Moja Moja MoiMoi
Done-ru (Done-ru~) Naparasu~ (Naparasu~)
Done-ru JuiJui~ (JuiJui~) Moro~ (Moro~)
Moja Moja~ (ja~ ja~ Moja Moja~)
Pupapu PoaPoa Moja~ (Moja Moja~ Moja Moja~)
Pupapu PoaPoa Moja~ (A~ A~)
PoaPoa Parerra
MoiMoi O~re JuiJui
Moro Chuppa Moi Moja Moja~ a~a~
Moro Chuppa Moi Moja Moja~
(Moja Moja)
モンモン モロ モロ モジャ モジャ モイモイ
モンモン モロ モロ モジャ モジャ モイモイ
ドゥネ~ル(ドゥネ~ル) ナパラス(ナパラス)
ドゥネ~ル ジュイジュイ(ジュイジュイ) モロ モロ(モロ モロ)
モジャ モジャ~(ジャ~ ジャ~ モジャ モジャ~)
プパプ ポアポア モジャ~(モジャ モジャ~モジャ モジャ~)
プパプ ポアポア モジャ~(モジャ モジャ~ア~ア~)
ポアポア パレッラ
モイモイ オ~レ ジュイ ジュイ
モロ チュッパ モイ モジャ モジャ~ ア~ア~
モロ チュッパ モイ モジャ モジャ~
(モジャ モジャ)
몽몽 모로모로 모쟈모쟈 모이모이
몽몽 모로모로 모쟈모쟈 모이모이
두네르~ (두네르~) 나파라스~ (나파라스~)
두네르~ 쥬이쥬이~ (쥬이쥬이~) 모로모로~ (모로모로~)
모쟈 모쟈~ (쟈~쟈~ 모쟈 모쟈~)
푸파푸 포아포아 (모쟈~ 모쟈 모쟈~ 모쟈 모쟈~)
푸파푸 포아포아 (모쟈~ 아~ 아~)
포아포아 팔레라
모이모이 오~레 쥬이쥬이
모로 츄빠 모이 모쟈 모쟈~ 아~아~
모로 츄빠 모이 모쟈 모쟈~
(모쟈 모쟈)
Trivia
Videos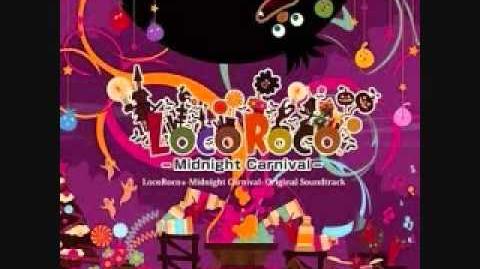 Songs
Background Musics
Dadhi Dado Da

Moinoi Moinoi

Doda Doda

Oreo

Yoi Yore

Uwauwau

Yare Yare

Pupapu Poapoa

Moro Mojya Nga

Aio Aio

Kuttetekaruna
Other Background Musics
Nyokki (song)

MuiMui Christmas

MuiMui House (song)

Nyokki NyoNyokki (song)

BuiBui (song)

Loco Race (song)

Chuppa Chuppa (song)

MuiMui Crane (song)

Bui Bui BoooooN! (song)

Loco Rider (song)

BuiBui Attack

Merure Merure
LocoRoco's Theme Songs
Bu Bu Poruche

Arten Daffu

Zappudo Geron

Panguraratta

Bucho Mio

Consepontowa

Tajya Natata
Other Theme Songs
LocoRoco Song

MuiMui (song)

LocoRoco 2 Theme Song

MuiMui King Theme Song

Moja Song

Moja Song: Bonmucho Battle

Moja Song: Mutated Bonmucho Battle

Moja Song: Majoliné Battle

Etoule Pucoratte