"PEKERE-TESHI!!!"

Oh no! This article is a

stub

!

It can be improved in areas such as grammar, style, wiki-formatting, spelling and expanding.


Help the LocoRoco Wiki and Pekeroné by

editing this article!
The Domingos (ドミンゴ, Domingo) are the LocoRoco adaptation of a penguin. The Domingo family are only found in Shamplin and come in a variety of sizes. Some are exclusive to LocoRoco 2.
Varieties
Domingo
"
Quite a timid one. Loves to collect treasure.
"

— Description in the

Stamps

at Page 3

The Domingo is the normal penguin from all the Domingos.
In LocoRoco, they can be fainted by hitting them fast. When you hit it, it will drop an Item for you. And in LocoRoco 2, they drop items such as the Domingo Tear instead of an Item. It can be pushed multiple times in Shamplin 1 to give space for you to walk.
Domingo-Yahna
"
This rare Domingo girl is ever so shy!
"

— Description in the

Stamps

at Page 3

Domingo-Yahna is a rare Domingo girl, she was extremely rare to find.
"KONAH!?"

This section of this article is a stub.

Kulche says that you can help to edit this article by expanding it.
Domingo-Popo
"
The boss of Domingo and friends. Loves a bit of a tussle.
"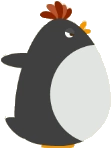 Domingo-Popo is a friendly Domingo, he's the boss of the Domingos. Loves to tussle around. Even larger than the Domingo-Pepe. Domingo-Popo appears in many places in LocoRoco 2, usually in Shamplin. Domingo-Popo is not like Domingo since he is not a scaredy cat judging by his eyes but you can actually defeat him easily many times.
Domingo-Popo appears twice in Shamplin 1. First you can knock him off to the water to get a fruit early in the stage then he appears near the end of the stage to be knocked off again to get a fruit and it is unclear how he came back since he got knocked off to the water. He also appeared in Chuppa Chuppa, you need to again knock him off to get a reward not a fruit.
He also appeared strangely in Chapo-Wahr in one of the last cutscenes. He helped deflecting the Moja Bunyo Bomb by jumping at it.
Domingo-Mama
"
The Domingo-Mama can beckon all the Domingos.
"

Domingo-Mama is suspected to be the mother of all the Domingos due to the name 'Mama'. In both LocoRoco 2 and LocoRoco, she is also a mission place.
Domingo-Pepe
"
This Domingo may be big, but he's a little scaredy cat!
"

Domingo-Pepe is a large Domingo that blocks the way and the only way to get him out of the way is to push him and he gets stuck in snow. He's the wimpiest of the bunch.
Trivia
Domingo means "Sunday" in Spanish and Portuguese.
Domingo and Chavez's name somewhat shares a fictional character's name named Domingo Chavez from Tom Clancy's Rainbow Six. Coincidentally, Domingo and Chavez's names are both Spanish and their habitats are in the Shamplin.