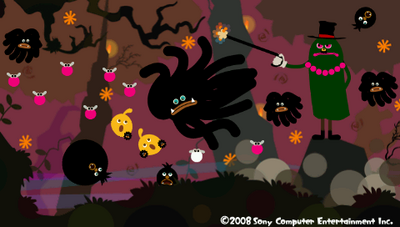 Dolangomeri is a location in LocoRoco and LocoRoco 2. The name of the location is revealed in LocoRoco 2 and it is called the dark, spooky land.
In the LocoRoco stage, World 3 - Level 8, this is the location where you can find and unlock Budzi and it is also Budzi's favorite zone and his habitat.
Environment
Dolangomeri has a dark grey-colored ground with spooky stuff in there such as dark trees. It is the darkest and scariest area of the LocoRoco Planet. Because of it's environment, the Mojas settle in their invasions in that place. It is ironically as well as the natural habitat of Budzi.
The song Kuttetekaruna can be heard in this location but the song Zappudo Geron is played when you play as Budzi.
Stages
LocoRoco Stages
LocoRoco 2 Stages